Wire Figure Musicians
– Wire Figure Flute Player
The scale of the Flute Player was the key.
I wanted to create a figure that flowed with movement but was also enigmatic and suggestive of ethereal sound. The wire figure flute player danced his way into that idea as a travelling minstrel from another time. A gypsy spirit with a wind-blown jacket, flailing tails and an extravagant feather in his battered hat!
Wire Figure Flute Player
– the devilment is in the detail
When I work on a figure at half scale (half 'real life') it gives me the opportunity to add detail which forms and informs the character of the piece.
It is important to me that each figure I create is anatomically true even if I subsequently decide to exaggerate some of their features. This requires many hours of sketching until I feel I've captured the correct shape and gesture of each limb and, importantly, the head.
A Flowing Jacket
For the Flute Player, I envisaged a jacket with long tails that had been caught by the wind and his movement as he balances on one leg. To give the jacket this appearance, I used a pliable small gauge stainless steel wire mesh. This enabled me to create the bend and curve of the tails and the high collar. It also allowed me to wrap the torso in its metal coat in the same way a tailor fits a new suit. I added large heraldic buttons to provide additional visual detail (see below and bottom) to the back and front.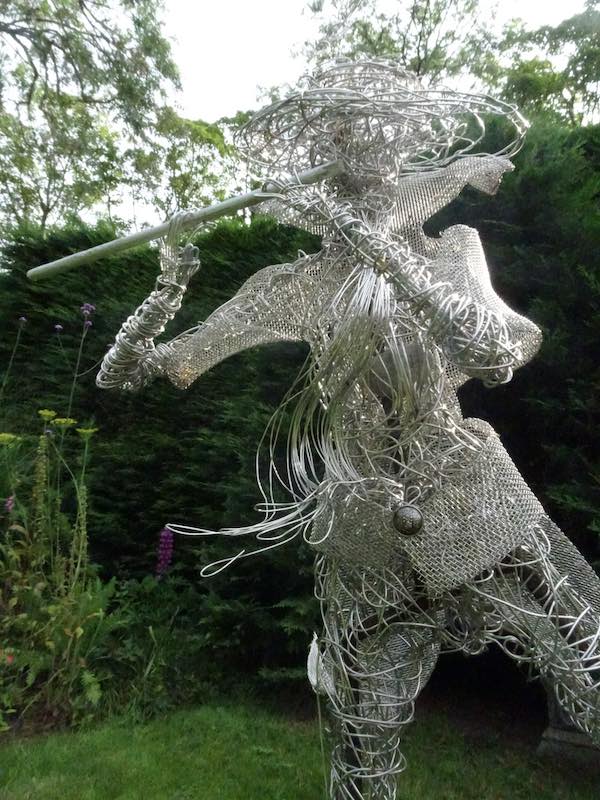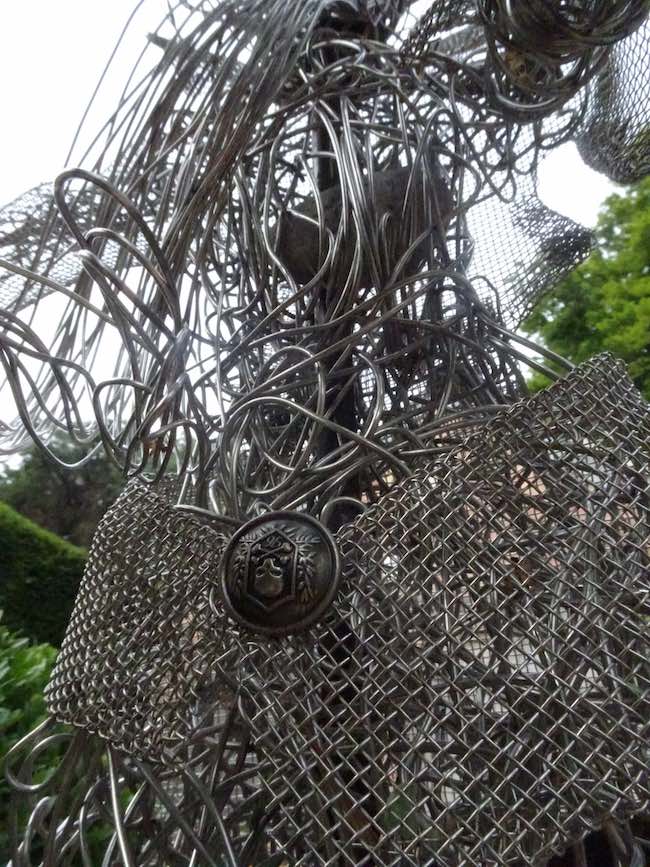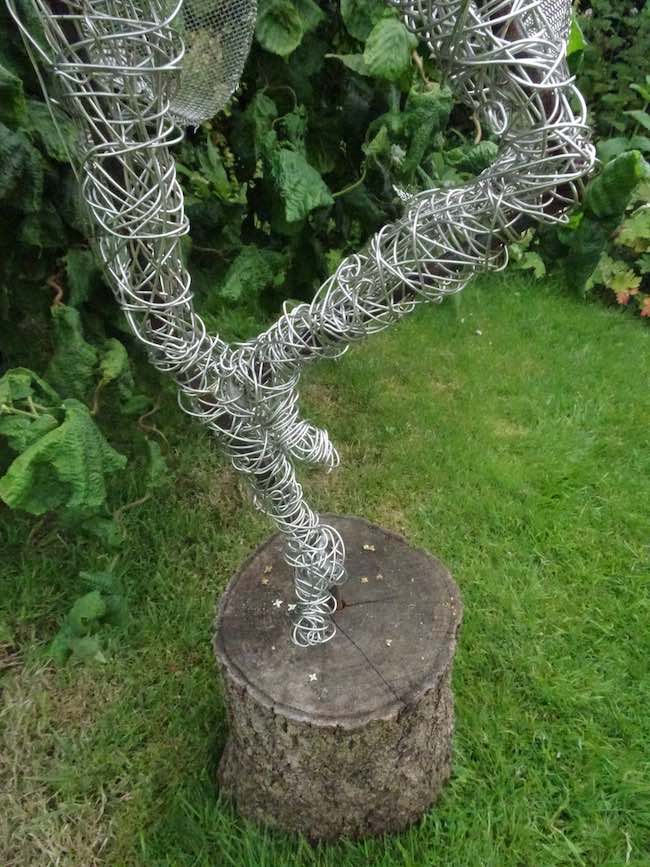 He who pays the piper
– The gesture of hands and hat create the character of the Wire Figure Flute Player
A key focus of the piece is the playing of the flute itself. Initially this was made from a length of painted dowel. It's since been replaced, however, with a stainless steel rod to tie it in with the rest of the sculpture. This also means it will last 'forever' just like the stainless steel wire itself.
It's in his fingers
It was important that the flute player had fingers to firmly grip the 'flute' ensuring it couldn't be blown away or easily removed by curious children! And, as importantly for me, the fingers and hands had to appear to be in mid tune. As you can see this section is an intricate area that provides both the support and the form I was looking to achieve.
I felt that the hat required a finishing touch too which is where the metal feather came in. It adds a feeling of motion as if it's bending in the wind but also that devil may care flourish!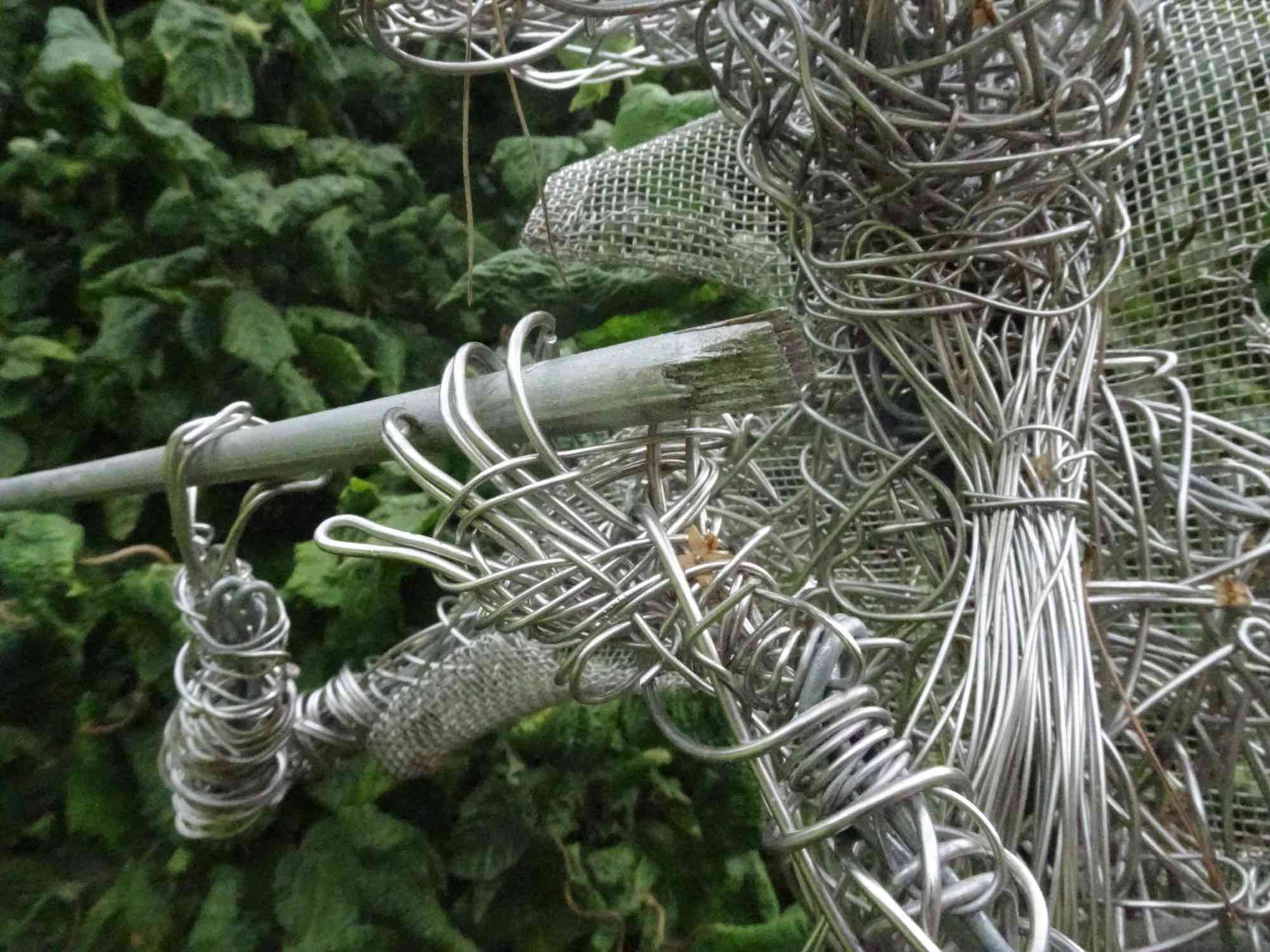 Standing in the way of despair

– Wire Figure Flute Player base
It's one thing creating a figure but, it's quite another, creating one that can stand and be counted. It must be strong enough to support itself. This wire figure, although quite thin, is relatively tall (90cm) and heavy (3.5kg). This creates quite a challenge to hold it upright in a balanced position.
The internal skeleton, as with all my wire figures, is made of welded 10mm mild steel rods. By extending the rod in the standing leg I was able to drive this into its wooden base (25cm diameter). This supports the finished figure and enables it to stand as can be seen in the photograph.
More Permanent Fitting
Alternatively, and to provide further stability, the rod can be fixed into a concrete base or stone plinth. This also means that the wire figure is securely held in place and unlikely to move.
At the moment though, like the true itinerant traveller that he is, he keeps moving around the Old Vicarage gardens enchanting and romancing with his silent melodies!
To buy or commission your own wire figure
The Commitments and the Commissions
As you can see stainless steel wire and steel offers great durability, flexibility and opportunity for an artist, especially when constructing a piece to sit outdoors. The materials are strong enough to build large pieces with and yet, malleable, to be able to create very intricate areas of detail.
What would you like to see in your garden or outdoor space? Are there any wire figure musicians, figures or animals you would like to liven up an area and create a 'talking point'?
Would you like to see an original and playful character in your garden or outdoor space? Are there any wire figure musicians, characters or animals you would like to introduce personality to an area and create a 'talking point'?
Pricing
My wire figure flute player is £550. Commissioned figures on the same scale/ height with 'clothing' and 'accessories' would be a similar price. Posed figures without the clothing or accessories are around £350 each.
If you have any questions or would like to buy one of the wire figures or commission a particular idea of yours do please get in touch. I'd love to help to bring your ideas to life.
To buy or commission your own wire figure